There's always going to be some amount of risk when it comes to a construction project – whether you are hiring a construction company for a project or if you are a construction company that has just been hired by a contractor. Construction projects will always come at a cost, and depending on the parties involved, could easily end in a dispute over whose responsibility it is to foot the bill of the project.
At the onset of a construction project, it can be tempting to sign the first contract available, but without reading the fine print, you can't know if there are clauses in the contract that are not in your favor. A faulty contract can leave you vulnerable to financial loss or fraud. Having a construction contract attorney look over your contract can help protect your construction investment.
There are many reasons for a construction contract dispute from the side of a homeowner or general contractor:
Poor quality of construction, structural defects
Construction that is not up to code
A project taking longer than initially estimated.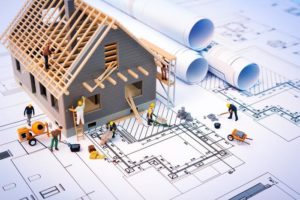 As a construction company, you may want to consult a construction contract lawyer if:
You are struggling to get paid for services rendered
You experience delays in payment
Construction disputes can be stressful, time-consuming, and frustrating for everyone involved. Lack of payment can affect your livelihood, and may impact future projects. Poor construction or workmanship can mean a structure is rendered inhabitable or unusable as a business. With either party feeling dissatisfied at the end of a construction project, a dispute could easily end with one or both parties suing each other. No matter how you got here, an experienced construction contract lawyer can assist you and ensure that your construction contract dispute ends with all parties satisfied.
Maryland is an unusual state due to the Maryland Home Improvement Law. This law states that all construction contractors must be licensed by the Maryland Home Improvement Commission, and, by using a licensed contractor, you are protected from losses up to $20,000 in the event of unsafe or defective construction practices. If you use an unlicensed contractor, however, you put yourself at risk of serious financial losses, with very little legal protection, and it may be difficult to recoup your losses without a construction contract lawyer on your side.
Have a Lawyer Review Your Construction Contract
At Hershon Legal, we understand the importance of negotiating a construction contract for the best possible outcome. Hiring a construction contract lawyer at the beginning of a major construction project ensures that you have the finest representation making sure that your contract is fair and clearly outlined for both parties. If your construction contract has already ended in a dispute, we will work hard to represent your best interests in every situation. Whether you are a homeowner, a general contractor, subcontractor or supplier on a construction project, Hershon Legal can assist you in making sure that your construction project has a successful outcome.
Contact Hershon Legal for a construction contract consultation today.