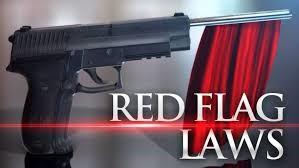 Maryland's Red Flag Law is officially known as an Extreme Risk Protective Order and is a court issued civil order temporarily requiring a person to:
       a: surrender any firearms or ammunition to law enforcement; and
       b: not purchase or possess firearms or ammunition.1
The Extreme Risk Protective Order law went into effect on October 1, 2018. Since then, there have been more than 1,835 ERPOs filed in the State of Maryland.2
Purpose
The purpose of the Red Flag law is to allow individuals to file a petition with the court (or commissioner) against a person who poses an immediate and present danger of causing personal injury to themselves or others by having firearms.
Factors Determining Risk
Alarming behavior and statements.

Unlawful firearm possession.

Reckless or negligent firearm use.

Violence or threats of violence to self or others.

Drug or alcohol abuse; and/or 

Information contained in health records.
Who Can File for an ERPO?
A spouse.

Cohabitant.

Relative by blood, marriage or adoption.

A person with children in common.

Current dating or intimate partner.

Current or former legal guardian.

A law enforcement officer.

Medical professional who has examined the respondent.
How does an Extreme Risk Protective Order Work?
Once a petition is filed with the court or a court commissioner, the court can issue either an interim or temporary ERPO – this is done on an Ex Parte basis (meaning that the person who is subject of the ERPO is not present in court).
The interim or temporary protective order will give the date, time, and location of where the final protective order hearing will be held.
The interim or temporary order gives the local law enforcement agency the authority to have firearms surrendered to it or for the agency to retrieve those firearms.

Nuances in the Law
The ERPO is very specific as to who's firearms and ammunition that is to be surrendered; it is the

Respondent's

(the subject of the ERPO) firearms and ammunition and no one else.

It is not an uncommon practice for law enforcement to seize all firearms and ammunition (including magazines) that are in the Respondent's home even if those firearms are registered to another person who resides in the home.

The ERPO does NOT give law enforcement the right to enter a home and search that home for firearms and/or ammunition without a search warrant.

Maryland Code Annotated, Public Safety Article, §5-607 provides that law enforcement can apply for a search warrant if they believe that a respondent has failed to comply with the surrender of their firearms and/or ammunition.
If law enforcement attempts to seize firearms and/or ammunition that does NOT belong to the Respondent, you can politely ask the agents to point out where in the ERPO it gives them the right to seize firearms belonging to others who may reside in the home.
If the law enforcement agents persist in seizing those firearms, request a supervisor to respond to the premises and discuss this matter with the supervisor.
Do not become angry or belligerent with the law enforcement agents as you do not want to be arrested.  Be sure to call an attorney at this point so that your rights are protected.
The Final Protective Order Hearing
Typically, the Final Protective Order hearing will take place 7 days after the temporary ERPO is issued.
You do have the right to have legal counsel present and it is strongly encouraged that you do.
Since this is not a criminal proceeding, there is no right to court appointed counsel.
Do not wait until the day before the hearing to hire an attorney; your attorney will need some time to research and review the circumstances of the case and be able to present a cogent argument to the judge to deny the Final Extreme Risk Protective Order.
Right to Repossess Your Firearms
Upon the Expiration or termination of an Extreme Risk Protective Order, the Respondent may request the return of their firearms pursuant to Maryland Annotated Code, Public Safety Article §5-608(b).
The law enforcement agency that has the confiscated firearms will conduct a background check to determine that the person whom the weapons are being returned to is not a prohibited person.
Once a request has been made to the law enforcement agency, that agency has 14 days after the expiration of an interim or temporary ERPO and 48 hours after the expiration of a final ERPO to return the firearms.

For more information contact Ed Hershon at Hershon Legal, LLC; ed@hershonlegal.com or (443) 926-1702
---
1Maryland Annotated Code, Public Safety Article §5-601 – §5-610.
2https://www.courts.state.md/district/about#general